...
Austin competed in one of the golden eras of the women's tour. As well as Evert, she encountered Martina Navratilova, Evonne Goolagong, and also shared the stage at the beginning of the '80s with a young star from Czechoslovakia, Hana Mandlikova.
And here, on the other side of the net playing for Team Cash, was that same adversary.
.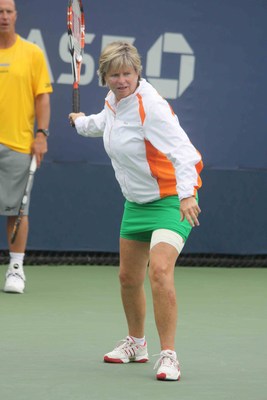 Less than a year separates the two women, but Mandlikova is now a little less sprightly about the court than Austin.
.
In her prime, Mandlikova won four Grand Slam singles titles, her U.S. Open victory coming in 1985. She also won the U.S. doubles title with Navratilova in 1989.
She always had a freshness and youthfulness to her look and her play, but never seemed to develop the tough carapace that may have yielded more titles to her abundant all-court talent.
That lack of toughness, verging on lack of confidence, together with back problems, brought retirement by the age of 28.
After years of coaching other talent to success—notably Jana Novotna—it's a pleasure to see the still-freckled face of Mandlikova gracing tennis once more.
Most, this year, did not recognise her. In time, we must hope they will.
.
.
US Open, 2009 - usopen.org
.
.