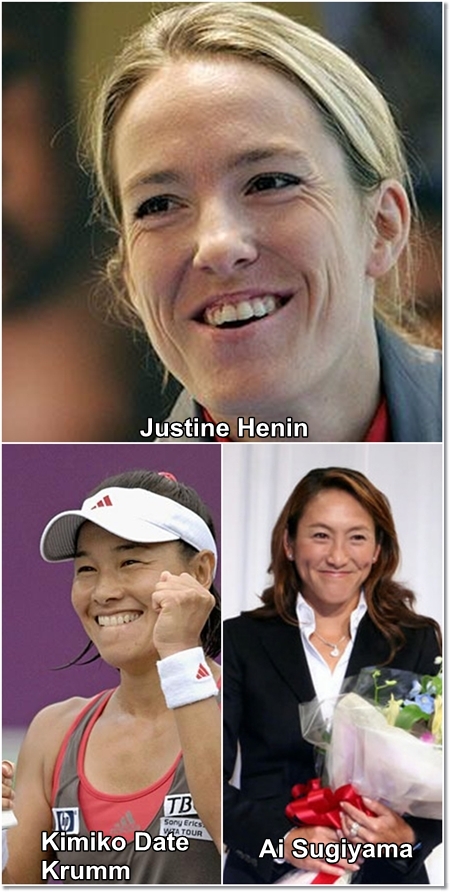 I'm so happy about it. She is one of the greatest tennis athletes after
Martina Navratilova
. I felt really sad when she retired from tennis, because she's so gifted in tennis. I thought like, "Without tennis, what's gonna make her shinning?" Now she's back again. And I hope I can see
Henin's
beautiful back hand again and I just hope she would rock women's tennis world. Because I don't wanna see tennis trophy being grabbed away by Williams and Russians
any more..(^-^;)

And Sad move here. I express my big appreciation what
Ai
Sugiyama
contributed to Japan's tennis. She played tennis 17 years in the competitive tournaments in the world, won 3 Grad Slam women's doubles titles. Yes.
Sugiyama
is a former world No.1 in women's doubles, and currently ranked world no. 8 in doubles, she is considered to be one of the best doubles player in the
WTA
Tour. Not only doubles, she made a great achievements in singles too. In 1995, she won her first Grand Slam match and reached the 4
th
round of Roland
Garros
.
In 1996, she reached the 4
th
round at Wimbledon. She represented Japan at the Atlanta Olympics where she defeated Martina
Hingis
to reach the 3rd round. And sad to say, now she's announced her retirement from tennis circuits.
SOOO
SAD! We miss her.
Another greatest Japanese tennis star
Kimiko

Date

Krumm
of Japan advanced to the Korea Open final by upsetting defending champion
Maria

Kirilenko
of Russia 3-6, 6-2, 6-4 Saturday. She will play second-seeded Anabel Medina
Garrigues
of Spain, who defeated
Anna-Lena

Groenefeld
of Germany 2-6, 6-3, 6-1. Date said, "I had nothing to lose if I lose the match." Go! Date! Go! Go! Go! Without
Sugiyama
, Date is kind of our beacon who can
show real world's tennis to Japanese tennis freaks. She is gonna be 39 this month. Can you believe this? Such a veteran doing her best to live up her life, is, no matter what, sure to give us middle-aged some huge power. Let's go after her.

I'd waited and waited Hana's come back after her retirement for years. But she never did. I know that's the way she wanted to live up her life. But I missed her like crazy. Still do now.

.
Hana Mandlikova, ca.1980
.
.